Settlement in the area around Gaiole undoubtedly began in extremely ancient times, as attested by numerous place names of Etruscan and Latin origin as well as by archaeological evidence found at Cacchiano (remains of a 2nd- and 3rd-century cemetery) and at the San Marcellino parish church. The ancient settlements would seem to have been concentrated in the communities of San Giusto in Salcio, San Polo in Rosso and Spaltenna, in the mediaeval diocese of Fiesole, and San Vincenti at Arezzo. All these parish churches have preserved their original floor plans as well as highly interesting traces of Roman structures. Many of the parish chapels that are dependencies of these churches are also noteworthy for the same reason. One of the most beautiful abbeys in the area is the Badia a Coltibuono, repository over centuries for a huge quantity of historical documents related to the Chianti territory.

The countryside around Gaiole is dotted with many castles due to the strong influence of the Firidolfi family, from whom the Ricasolis are descended, and later, by the Florentine Republic's need for defensive positions. In some cases the ancient castles have been transformed into villas. Among them are Meleto, San Donato in Perano, Rentennano and San Giusto alle Monache. Brolio castle, cradle of the Ricasoli family, is a special case. Its defenses were rebuilt near the end of the 15 C, perhaps by Giuliano da San Gallo, and were one of the first examples of ramparts supplemented by bastions. Baron Bettino Ricasoli rebuilt the castle in the 19 C, converting it into a villa in neo-Gothic style. The existence of so many castles in the immediate area was responsible for the rise of Gaiole as a marketplace. It is located on the valley floor along the road leading from the Chianti area to the upper Arno Valley. Gaiole is mentioned for the first time toward the end of the 11 C.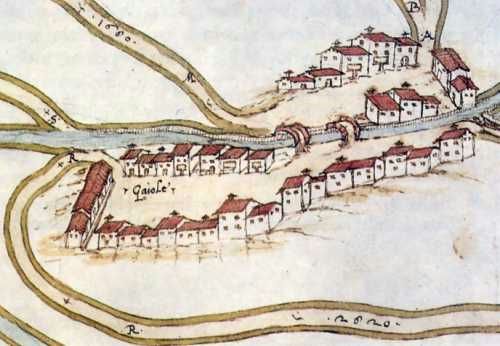 Gaiole in the 12 C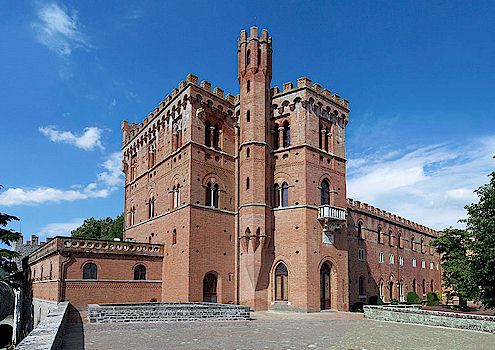 More about the Castles of Chianti.
Gaiole was always within the administrative orbit of Florence but at the start of the 19 C during the brief existence of the Kingdom of Etruria, Napoleon included it in the "Departement" of Sienna and it has remained there ever since, even after the unification of Italy and the formation of the present province of Florence.